Work-anywhere web-based software
UltraCamp is Web-based software accessible by any device with a Web browswer and an Internet connection. Our system functions with all major browswers: Internet Explorer, Mozilla Firefox, Safari and Google Chrome. PC, Mac, iPad, iPhone and Android; no problem. No other solution avaialble supports more platforms and browsers.

Easy online registration
UltraCamp provides the most powerful, flexible, easy to use registration engine available. It can be customized to accommodate thousands of different scenarios and needs.
Session selection with real-time restrictions on availability
Activity selection with real-time restrictions on availability
Transportation
Camper pickup authorizations
Camp store deposits
Lodging assignments
Health information
Secondary contact
Custom options with real-time restrictions on availability
Conditional logic for option choices.
Automated and manual discount handling
Multiple reservations - multiple campers - one check-out
Scheduled payments
Family/Group camp capabilities
Create your own custom questions and online forms
Pricing structures based on age and/or size of group
Multiple payment options - scholarships, vouchers, third-party pay, online payment processing
Facebook and Twitter integration
Additional power can be added to your social media stratagy by taking advantage of UltraCamp's social media integration tools. Login via Facebook, the ability to automatically send tweets or post to Facebook when reservations are made, and a Facebook integraged photo gallery are just a few of the powerful social media tools available.


Powerful reporting capabilities
UltraCamp provides with a host of preconfigured reports to manage the most common reporting needs, from basic session rosters to in-depth financial reporting. Additionally, UltraCamp contains an extremely powerful, yet refreshingly simple, report builder that can reference, filter and aggregate any data in the system. Reports are easily exportable and can be used to send bulk emails, broadcast phone calls and text messages, create mailing labels, and much more.
Electronic or e-fax form signatures
Need physical signatures on medical forms or waivers? No problem. UltraCamp uses a unique tool called e-fax that automates the collection of signatures. This tool allows parents to fax or email completed forms to our system and automatically routes and stores them to the appropriate account in UltraCamp; ready for your retrieval. When combined with the Task Management capabilities, you can easily keep track of who has and has not completed this important step.
Secure health history and medication module
Integrated tools allow campers' visits with camp medical staff and the dispensing of medication to be recorded. This provides a simple and reliable way to view the entire history of a camper from day to day and year to year.
Money-making donation module
Collect donations online through UltraCampís flexible donation module. Simply input the categories into the database and start collecting funds for your camp.
Efficient parent communication tools
When it comes to communication, UltraCamp provides numerous options to increase quality and efficiency. Bulk emails, broadcast phone calls and text messages can be generated and delivered with a few simple clicks. Recipients of these communiquťs are easily tailored to a single session, groups of people, or any other subset of records you can create via UltraCamp reporting tools. In addition, UltraCamp maintains a correspondence log that stores all automated communication. Other client contact such as phone calls and face-to-face meetings can also be documented.
Integrated point-of-sale software
UltraCamp has a point-of-sale system to simplify the management of you organizations store. In addition to processing traditional retail transactions and enabling inventory control, UltraCampís store supports the cashless environment under which most camps operate. Money can be deposited at any time to a campersís store account either on site or online. Those funds immediately become available for use. If desired, a history of purchases is visible to parents by logging into their account. At the end of a season, left over money in a camperís account can simply be credited back or transferred as a donation to the camp.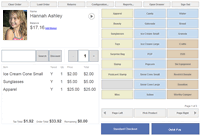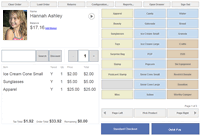 Secure photo gallery
UltraCamp allows you to upload photos to a password-protected gallery. These photos can then be downloaded by those with access to the gallery. If desired a fee for downloading these images can also be applied. Additionally, the photo gallery is integrated with facebook greating increasing the marketing impact of your camp photos.
Efficient two-way camper email
Communication from parents to children and vice versa is easily managed within UltraCamp greatly simplifying the process and drastically reducing the staff time required to sort and process communications.
Unlimited technical support
We stand behind our product with toll-free phone support and an easy-to-use email support ticket system. Unlike other services, we donít charge extra and there is no limit on support. Our team is responsive and eager to attend to your needs in an efficient, courteous manner.
No long-term contracts
We don't lock our clients into lengthy contracts. We are confident that once you experience the service and features of UltraCamp, you won't want to leave. If you do decide for any reason to discontinue service, you can do so without any contractual obligation forcing you to stay.